Amp Teez - CEO/Artist/Producer
After a year of music conferences, character assassination attempts, hurt from lost ones, and more….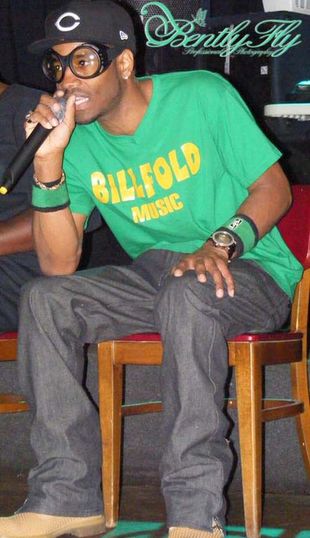 Amp Teez, a recording artist, certified, self employed, dream chaser. Heavy wit rap groups, touring and other events, has led up to what's next. What's next? Amp Teez - Billfold Entertainment feels "Its Time", time for his debut solo project. "GOING GREEN"…..
Cincinnati bred, a product of hip-hop music, influenced by the best, chart-topping and any other artists with the drive to make it from the underground world of mixtapes to becoming Oscar and Grammy winners.
But influences are just what they are, influences. "I consider myself to be an original artist with my own style of hit making. As the producer for Billfold Entertainment, my outstandish creativity shown in my music is the pivot of Frenzy Beats, which feeds the hunger of Billfold Entertainment.  I myself, besides being a recording engineer, a producer, and a strong business hand, rep Cincinnati with ah swag like no other. Along with the rest of the Billfold Entertainment family, we continue to brand the pavement throughout the city streets and across the states."
Representing "real life, real music, real results". Established late 2005, Billfold Entertainment is the future of what began with sticks to a drum, from tapping out beats to spitting out rhymes…. And it doesn't stop here….!
Billfold Entertainment Inc.
Billfold Entertainment Inc. is a full service record label based in Cincinnati, Oh. Billfold Entertainment Inc. was founded by Owner/Ceo/Artist Anthony "Amp Teez" Thatcher. Billfold Entertainment Inc. specializes in sales, marketing, promotion's, product management, with a network in all genre's of music but a focus on Hip-Hop/Rap and R&B artist. With Amp Teez imaginative mind, he is able to create innovative music and sounds. With Billfold Entertainment Inc.'s Midwest success, Amp Teez and staff then expanded the company, with signing its first official signature group, a compilation of labels artist being represented under the name of Billfold Music (BMG), as well as opening its subsidary company Frenzy Beats Productions. With its distinctive talent and impeccable sounds, courtesy of outside producers as well, Billfold Entertainment Inc. is sure to add a much neede buzz not only in the midwest but nationwide.
Frenzy Beats Productions - Mix & Mastering Engineer
Founded by Anthony "Amp Teez" Thatcher in February of 2005.  Frenzy Beat Productions, allows artist to hear a wide selection of music choices that are individual in sound.  Amp Teez was always an eccentric individual with an extensive imagination and an impeccable background of creating different music styles.   With a $100 invested at the beginning stages and a idea in mind of creating something that would be refreshing to the local music industry. Amp Teez started an ingenious journey by making peculiar music for up and coming artist looking for distinctive sounds. After doing much research and training on music production, he decided it was time for Frenzy Beat Productions to join the main stream music market. Amp Teez main focus for Frenzy Beat Productions is to keep it uncommon, peculiar, and ever changing. With those qualities that Frenzy Beat Productions offers this definitely separate's them from many others.  With music changing drastically throughout the years and years to come, Frenzy beats has that eclectic style to always be up to pace.
Billfold Music Group (B.M.G.)
An Ohio based compilation group.  Billfold Music (BMG), Created and managed by fellow member, Anthony "Amp Teez" Thatcher, in late 2005.  Amp Teez, born and raised in Cincinnati, OH, took on a strong connection to music as a young child by clattering away at objects around his mother's home. Amp Teez was able to identify his true calling, which evolved into an acclaimed lyricist and producer.  Once Amp Teez strengthened his musical abilities, he was able to start up his first music venture, by creating Billfold Music (BMG).
During Billfold Music(BMG) musical journey,  spirit and talents's in mind. They joined forces with Dayton, OH based group The Barburyn's.  The Barburyn's was formed in 2003 by Amp Teez cousin Cory "Messia" Bradley and his friend David "Ghost" Wilder.  Cory "Messia" Bradley, born in Louisville, KY moved to Dayton, Ohio  in 1999. That is where he met friend and fellow group mate David "Ghost" Wilder, who was originally from Cleveland, OH.  Wilder moved to Dayton, OH in 2003.  The Great ironic thing that brought these two talented men together were their previous service with the United Stated Air Force, Both of which are veterans of The War in Iraq.  Their strength and experienced gained from the military gave inspiration to their stage name "The Barbuyrns".  Unfortunately, The Barburyns duo was short lived due to the unexpected death of Cory "Messia" Bradley.  With Messia's spirit in rememberance,  David "Ghost' Wilder,  decided to continue with Billfold Music (BMG), and also started Axe Gang Entertainment LLC with his former bandmate's
  Billfold Music (BMG) has set themselves apart from other bands or groups,  simply by their positive spirits, impeccable talents and original music.  Upholding great leadership and work ethic, BillFold Music (BMG) is sure to win over america with their incredible talents.
The Barburyns - ARTIST/Owners Of Axe Gang Entertainment LLC
Ghost (David Wilder), a born resident of Cleveland, OH. moved into the Dayton area in 2003. This talented artist pursued a military career in the United States Air Force, and is a veteran of the conflict in Iraq. Ghost began his pursuit of music in 2006 as a member of the "BARBURYNS", alongside Messia aka Cory Bradley. Due to their experience in military service, they decided to call themselves "Barburyns." The original concept in regards to the term "BARBURYNS" indicates a war and rap. The syllables "Bar" and "Bury" symbolizes bar counts for verses. When Barburyns finish tracks, they bury it and move on to the next: hence, you are left with the name of the duo. "BARBURYNS: They bury bars". The two of them have done shows for numerous concerts and opening acts to include opening for Paul Wall, Gucci Mane, Young Buck, Cassidy, Ace Hood, and others. They were awarded Ohio Hip Hop Awards Best Group 2008 as band member of Billfold Entertainment. In Feb, 2008 tragedy struck.
Messia died Feb 24th, 2008 while Ghost was serving overseas. After being discharged from the Air Force in September 2009 Ghost returned to Cleveland, Oh., where he wa
s able to continue working on his craft but this time as a solo artist, but forever carrying the name: "BARBURYNS" with him.
Ghost is also CEO of AXE GANG ENTERTAINMENT, LLC. In 2008 Ghost linked up with his brother Rell Mack (Jerrell Harris) and Rell became a new addition to Axe Gang Entertainment, LLC. Rell started recording music in 2006 as a member of the Rap Group "Still Living" (SL). As a memeber of 
SL he added man
y accolades to his legacy.
 In March 2010 Ghost dropped his first solo project "The Haunting Season" mixtape which continues to do great numbers on line with almost 1500 downloads. Ghost is currently working on his debut solo album "Still a Barburyn" which is scheduled to be released later in 2010.